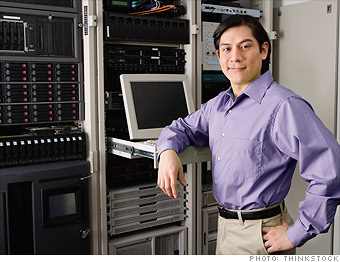 "I asked Santa for an iPad and he brought me a dry-erase marker board," my five year old cousin was overheard mumbling under her breath on Christmas morning. "I guess he misheard me."
We live in a world where ever-changing technology surrounds us. Whether we are scanning barcodes at the grocery store to compare prices, immersing elementary school children in fun, educational iPad games in the classroom or discussing medical treatments following an MRI scan, information technology surrounds us.  I've said before that we live in a digital world. With the advancement of technology across all industries, the IT field is one that continues to grow.
In a CNNMoney article published this year called the "Best jobs for fast growth," eight out of 20 jobs highlighted were IT jobs. The number one job listed was software developer, and other jobs included web developer, IT business analyst and IT consultant. So with a growth in the IT field and a need for people to fill those roles, how do we convince students to consider a career in information technology? How do we fill the pipeline?
IT jobs are cool – check this out! http://www.youtube.com/watch?v=YgWnhS5WyfM
How do we move children from being an end user of technology to the creator behind the magic? That's what we're trying to do at IT-oLogy. Stay tuned in the new year for some really cool new programs to be rolled out for K-12 students, college students and professionals!